MISSION
To provide quality training to shape our students to be readily employable by the industries and to meet the growing demand for trained man-power in the intrinsic competitive knowledge industry.
Efforts
The placement and training cell functions under the supervision of a full-time placement officer and operates all around the year to arrange campus interviews by the companies. It plays a very crucial role in counselling and guiding the students for their successful placement
Placement and training cell of our college functions with the main objective of shaping the engineering students to be readily deployable by industry.
Apart from the regular curriculum, we aim to fill the gaps between the industry's expectations and the individual's caliber by devising Value Added Programs, Placement Workshops, Soft Skills Training, Personality Development Programs, etc.
This cell also strives hard to serve the student community by maintaining industry-institute relationships so as to identify the industry needs and expectations and to train the students accordingly. In connection to this, we have MoU signed with Infosys, Red hat, etc. Infosys enriches us with a campus connect training program for our students every year.
One-to-one career exploration and Career development counseling is available to all the students. It acts dynamically and flexibly to improve the knowledge and skills of the students in order to make them suitable for the placement.
Many reputed organizations have visited our college providing an opportunity for our students to utilize the resourceful young minds available in our region.
Visited Companies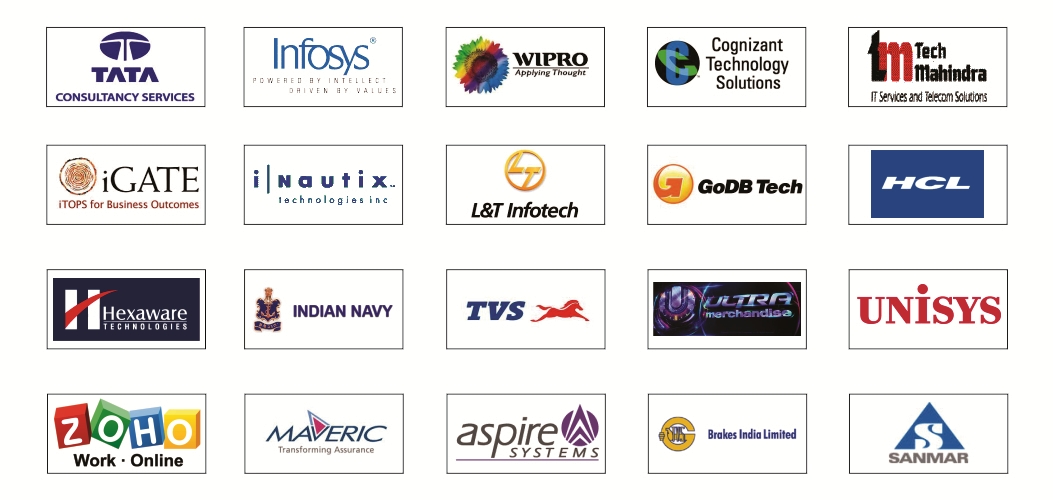 Trainning Cell 
YEAR 1
SEMESTER 1
PLACEMENT TRAINING
Basic English Grammar
TECHNICAL TRAINING
Fundamental of Computer Programming
                                                         SEMESTER 2
PLACEMENT TRAINING
Advance English Grammar
TECHNICAL TRAINING
DATA STRUCTURES
C Programming
YEAR   2
SEMESTER 3
PLACEMENT TRAINING
Spoken English
Basic Apps & Reasoning
TECHNICAL TRAINING
OOPs
C++
RDBMS
                                                       SEMESTER 4
PLACEMENT TRAINING
Business English Certification
Basic Apps & Reasoning
TECHNICAL TRAINING
Java/.Net
Web Technology
Oracle/(PL/SQL)
                                                         YEAR   3
PLACEMENT TRAINING
Verbal Aptitude Refresher
Life & Soft skills
TECHNICAL TRAINING
TOOLS
TOAD, Eclipse, etc.
FRAMEWORKS
Ruby On Rails, etc.
Big Data & Social Media analytics, Research Methods
Mini Project
Covering at least 3 of FE, BE, Tools, Frameworks, Analytics
YEAR 4
SEMESTER 7
PLACEMENT TRAINING
Company Specific Training
Post Placement Training
Coaching for GATE, CAT, GMAT,…
TECHNICAL TRAINING
MOBILITY
ERP
TESTING
F&A
                                                       SEMESTER 8
TECHNICAL TRAINING
Comprehensive Project
Domain Knowledge
Foreign Language