LABORATORY FACILITIES
Strength of Materials Laboratory
Concrete & Highway Engineering Laboratory
Environmental Engineering Laboratory
Hydraulics Engineering Laboratory
Soil Mechanics Laboratory
Surveying Laboratory
CABD Laboratory
Advanced Structural Engineering Laboratory
STRENGTH OF MATERIALS       
The students are enriched with the knowledge of hardness of steel, the impact strength of square rod, double shear test and tensile strength of rods used in construction.
EQUIPMENTS
UTM of minimum 400kN capacity with double shear attachment
Torsion testing machine
Izod impact testing machine
Brinell hardness testing machine
Rockwell hardness testing machine
Beam deflection apparatusr
Le chatelier apparatus
Vicat's apparatus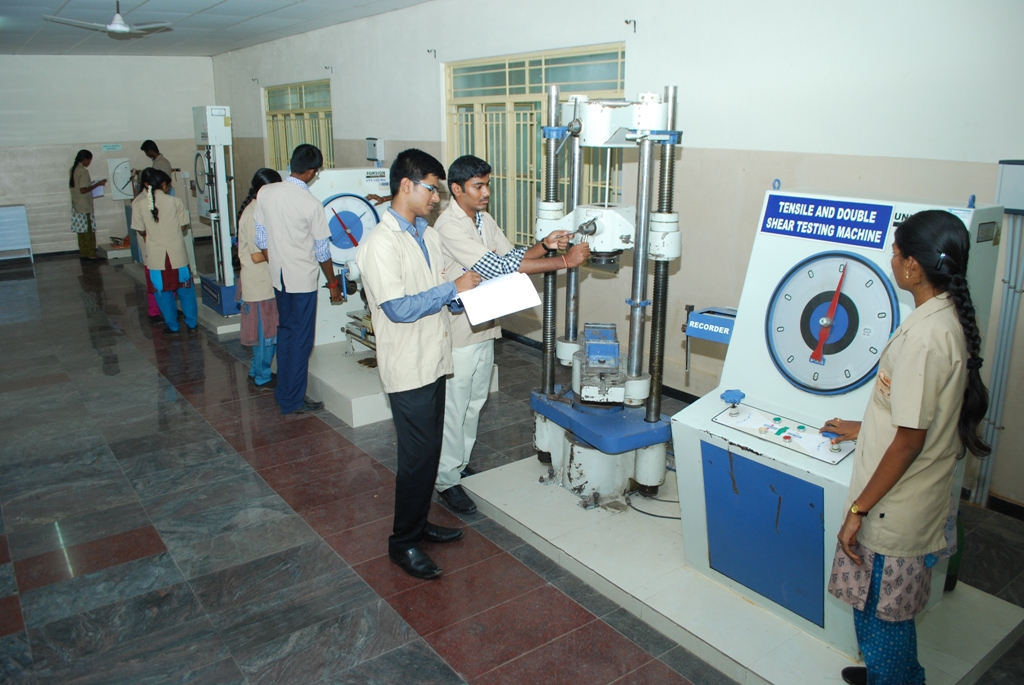 Strength of Materials Laboratory
CONCRETE & HIGHWAY ENGINEERING LABORATORY
In this lab students are educated with the properties and grades of concrete, mix design, workability of concrete and the properties of aggregate used in making concrete and road pavements are studied.
EQUIPMENTS
Slump test apparatus
Compaction factor apparatus     
Concrete mixer machine
Vee bee consistometer
Ductility testing machine
Flow table motorized
Needle vibrator
Compression testing machine
Bitumen Extractor
Sieve Shaker
Film Stripping Apparatus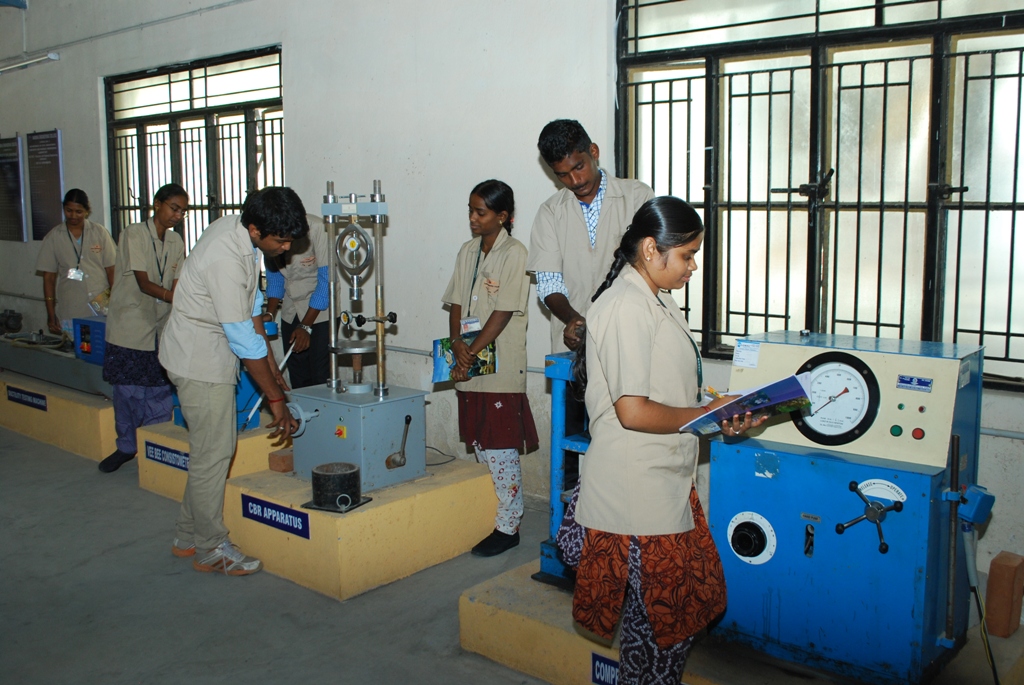 Concrete and Highway Engineering Laboratory
ENVIRONMENTAL ENGINEERING LABORATORY
The students shine with the knowledge of turbidity in the water, pH of water. The hardness of water is estimated in determining the suitability of water for domestic and industrial uses. It is done to determine the strength of domestic and industrial sewage.
EQUIPMENTS
Heating Mantle      
pH Meter
Bod Incubator
Cod Apparatus
Conductivity Meter
Jar Test Apparatus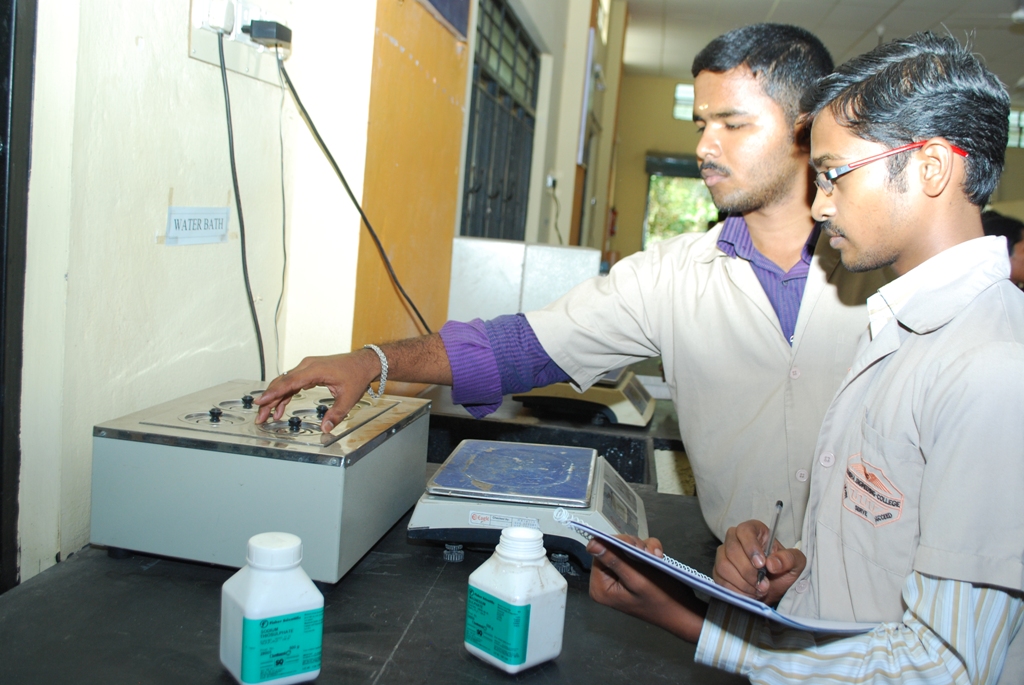 Environmental Engineering Laboratory
HYDRAULICS ENGINEERING LABORATORY
This lab is to have knowledge about practical applications concept of Hydraulic Engineering Laboratory.
EQUIPMENTS
Orifice meter and Venturimeter test rigs
Rotometer and water meter
Major losses and minor losses
Pelton wheel turbine
Metacentric height apparatus
Bernoulli's Apparatus
Francis turbine
Kaplan turbine.
Single stage centrifugal pump
Gear oil pump
Reciprocating pump
Submersible pump
SOIL MECHANICS LABORATORY
Soil mechanics laboratory is well equipped with all equipments required for identification and classification of soils. This lab is to have a thorough knowledge of testing the shear parameters of the soil, and characteristics of cohesion soil and, cohesionless soil and field test on soil.
EQUIPMENTS
Sand Pouring Cylinder Apparatus
Liquid limit apparatus
Plastic limit apparatus
Proctor compaction apparatus
Field Density Apparatus – Core Cutter
Sieve Shaker – Analysis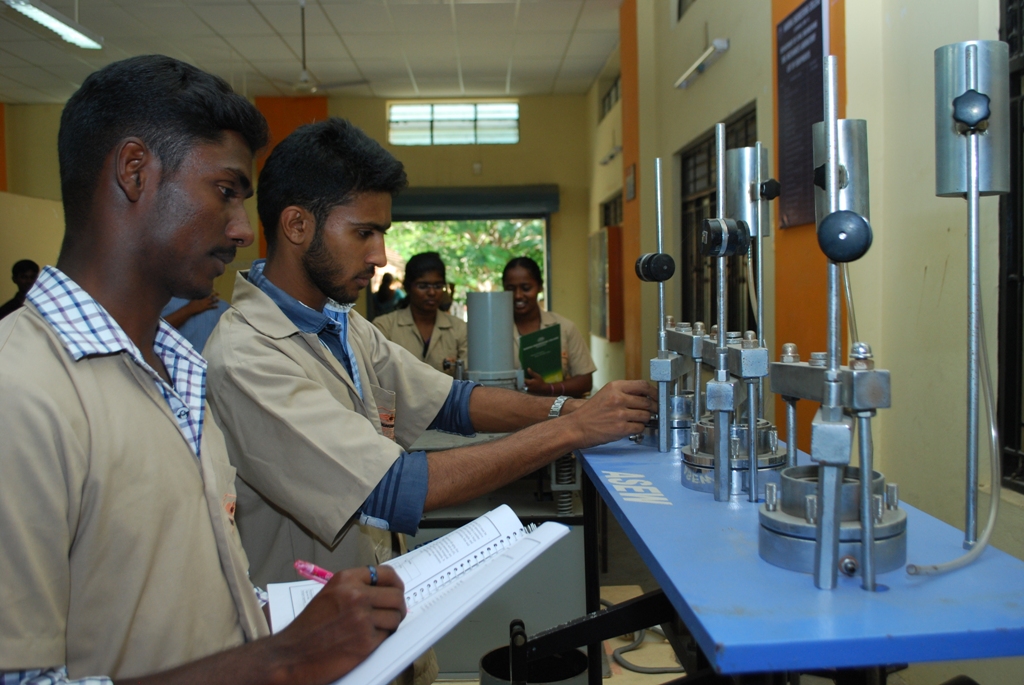 Soil Mechanics Labarotory
SURVEYING LAB ORATORY
Surveying, exposes students to the fundamental land surveying measurement methods. The survey lab is equipped with all the latest survey equipment such as total station, GPS, etc.
EQUIPMENTS
Transit vernier theodolite with tripod.
Dumpy level with tripod.
Total station with accessories.
Prismatic compass with tripod.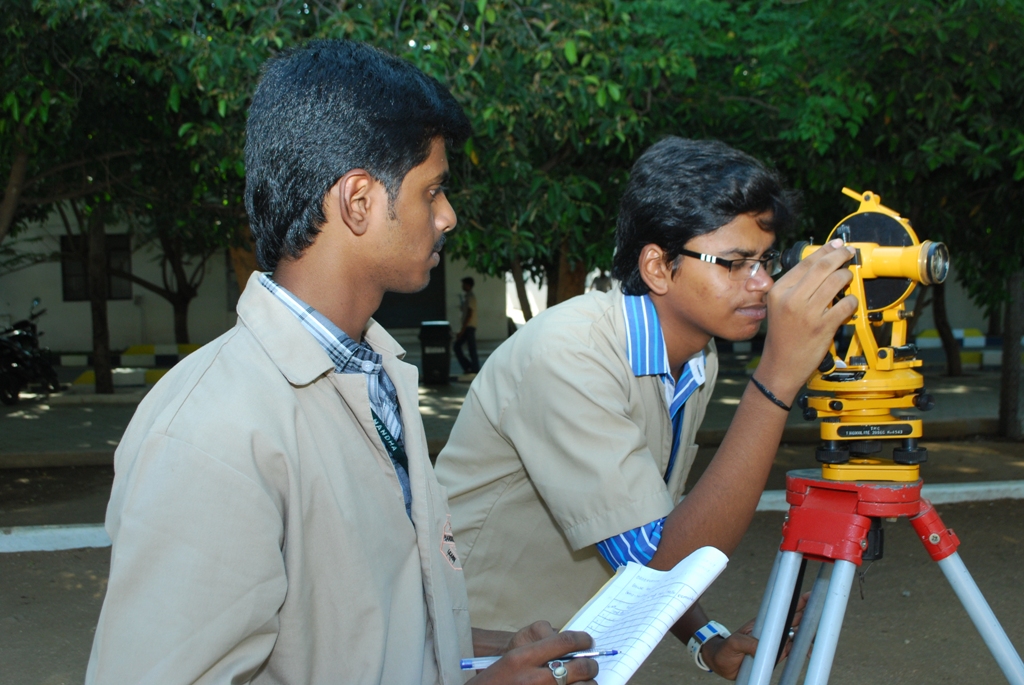 SURVEYING LABORATORY
COMPUTER AIDED BUILDING DRAWING LABORATORY
In CABD lab with latest version of software, the students are getting knowledge about what is happening in and around, latest techniques, job information doubts in studies, software training etc.,
EQUIPMENTS and SOFTWARES
Printer HP
STADD.Pro software
AUTO CADD software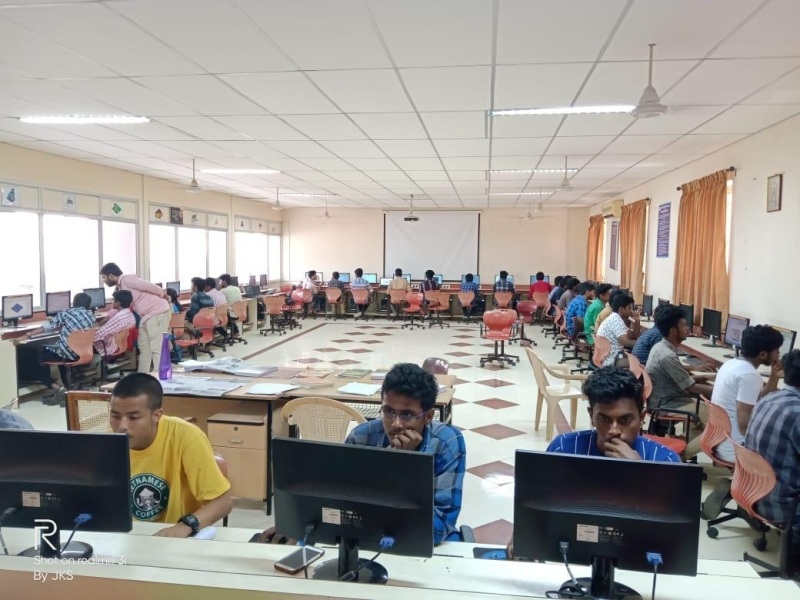 CABD LABORATORY
ADVANCED STRUCTURAL ENGINEERING LABORATORY
In this lab, students gain knowledge in the field of structural & concrete like testing of reinforced concrete column, beam & steel beam and also study its durability.
EQUIPMENTS
Loading frame (100T)
Hydraulic jack
Load cell and proving ring
Electrical strain gauge with indicator
Rebound hammer
Ultrasonic Pulse Velocity Tester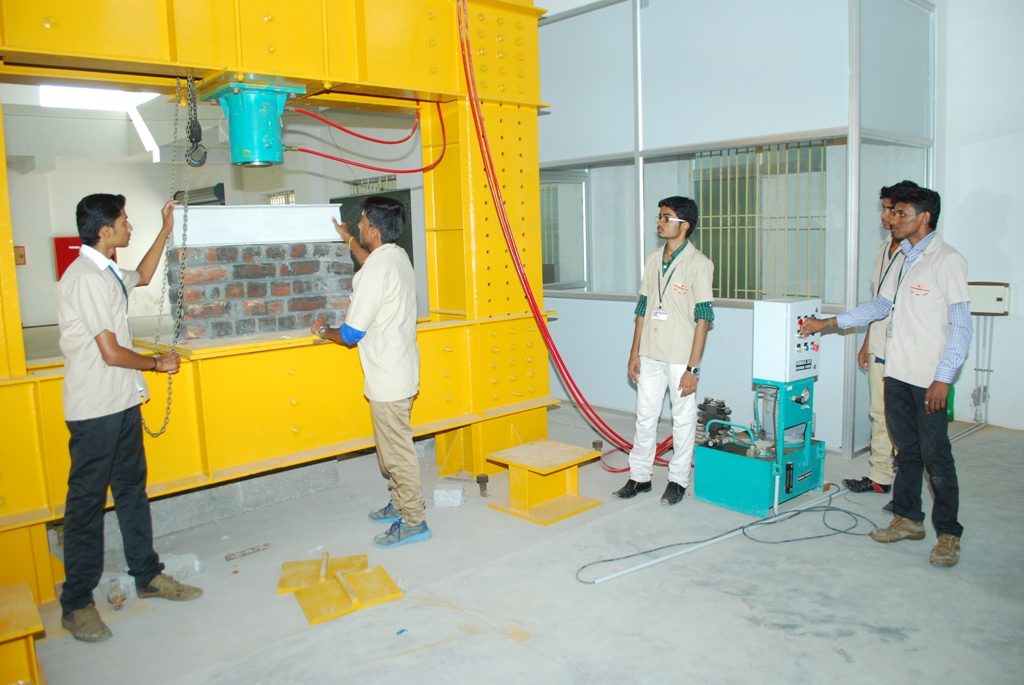 Structural Engineering Lab